SME Bank Malaysia, SME Bank Thailand, Export-Import Bank of Thailand & EXIM Bank Malaysia Collaborate to Boost Economic Activities
SME Bank Malaysia, SME Bank Thailand, Export-Import Bank of Thailand & EXIM Bank Malaysia Collaborate to Boost Economic Activities
KUALA LUMPUR : 18 February 2020
---
Malaysia and Thailand continue to strengthen bilateral cooperation in enhancing economic activities between the two countries through the signing of a Memorandum of Understanding (MOU) between SME Bank Malaysia, SME Bank Thailand, Export-Import Bank of Thailand and EXIM Bank Malaysia held in Narathiwat, Thailand, on 16 February 2020.
YB Datuk Wira Dr. Mohd Hatta Ramli, Deputy Minister of Entrepreneur Development and Cooperatives Malaysia (MEDAC) who witnessed the ceremony together with the Deputy Prime Minister cum Minister of Commerce of Thailand, H.E. Jurin Laksanawisit said, "Thailand is currently Malaysia's second largest ASEAN trading partner and its fifth largest trading partner globally. The total trade balance recorded in 2019 was RM11.01 billion, with a cross border trade valued at USD24.09 billion in 2019. Looking from these statistics, the potential for both countries to increase its trade is indeed very broad and should be maximized."
Dr Hatta added, "This MOU has successfully renewed the commitment of all parties to continue to integrate cross-border trade, investment, and economic activities especially in the tourism, halal food, clothing, jewelry and other industries. This collaboration will also provide opportunities for local SMEs to strengthen their position in the global market especially in Thailand and increase the level of involvement of local SME entrepreneurs in the international arena. "
Aria Putera Ismail, Group President/Chief Executive Officer, SME Bank said, "This MOU will also open up opportunities for local and international entrepreneurs to use the ODELA, a one-stop e-commerce platform developed by SME Bank dedicated for B2B businesses. ODELA will enable trade partners to make cross-border payments and transactions, facilitate knowledge exchange, encourage innovation and leverage on the vast ecosystem. SME Bank aims for ODELA to reach RM9.8 billion worth of transactions within five years. The ODELA platform will also encourage the adoption of digital technology amongst SMEs and transform the way international trade is conducted."
Aria added, "As an agency under MEDAC with the mandate to nurture and develop the nation's SMEs, this effort will help the Government to achieve the National Entrepreneurship Policy 2030 goals of making Malaysia an entrepreneurial nation thus achieving the Shared Prosperity Vision 2030."
Signing the memorandum on behalf of SME Bank Malaysia was the Group President/Chief Executive Officer, Aria Putera Ismail, on behalf of the SME Bank Thailand was Nartnaree Rattapat, Senior Executive Vice President (Acting President), on behalf of Export-Import Bank of Thailand was Pisit Serewiwattana, President and on behalf of Exim Bank Malaysia is Dato' Shahrul Nazri Abdul Rahim, President/Chief Executive Officer.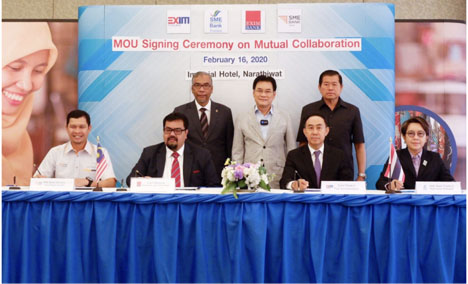 Standing from left: YB Datuk Wira Dr. Mohd Hatta Ramli, Deputy Minister of MEDAC, HE Jurin Laksanawisit, Deputy Prime Minister and Minister of Commerce of Thailand, HE Niphon Boonyamane, Deputy Minister of Interior of Thailand) (Sitting from left: Mr Aria Putera Ismail, GP/CEO SME Bank Malaysia, Dato' Shahrul Nazri Abdul Rahim, President/CEO of EXIM Bank Malaysia, Mr Pisit Serewiwattana, President of EXIM Bank Thailand, and Ms Nartnaree Rattapat, Senior Executive Vice President(Acting President) of SME Bank Thailand)