SME Bank Inked Mou with Oyo to Improve Hotel Services
SME Bank Inked Mou with Oyo to Improve Hotel Services
KUALA LUMPUR : 3 October 2019
---
Small Medium Enterprise Development Bank Malaysia Berhad (SME Bank), an agency under the purview of Ministry of Entrepreneur Development (MED) has inked a Memorandum of Understanding with OYO Rooms Hospitality Sdn. Bhd. (OYO). The collaboration provides an opportunity for hoteliers especially budget hotels in the country to improve the quality of their services.
Aria Putera Ismail, Group President / Chief Executive Officer, SME Bank said, "This collaboration will benefit SME Bank's customers who are budget hotel operators. Through the MoU, hoteliers will have access to OYO's services as an initiative to improve and enhance the standard of services provided. Indirectly, we are able to help the SME to boost the number of bookings and profitability of their business."
Besides providing value added to SME Bank's customers, this MoU will also benefits OYO's business partners. "OYO's business partners also have the opportunity to obtain financing from SME Bank such as the Special Fund for Tourism 3 (SFT3), a special financing for the tourism sector, which was launched earlier this year. In addition, SME Bank also offers financing for working capital and asset purchase as well as entrepreneur development programs provided by our subsidiary, Center for Entrepreneur Development and Research Sdn. Bhd. (CEDAR), " Aria added.
The collaboration is expected to further improve the quality of hospitality services especially for SME entrepreneurs in Malaysia. SME Bank has a vision to become the leading SME ecosystem that provides services beyond financing and this is one of the Bank's initiatives in helping the SMEs to improve the quality of budget hotel services in Malaysia.
The signing ceremony of the Memorandum of Understanding was held in Kota Kinabalu in conjunction with the SME Bank Sabah Regional Centre Outreach Program.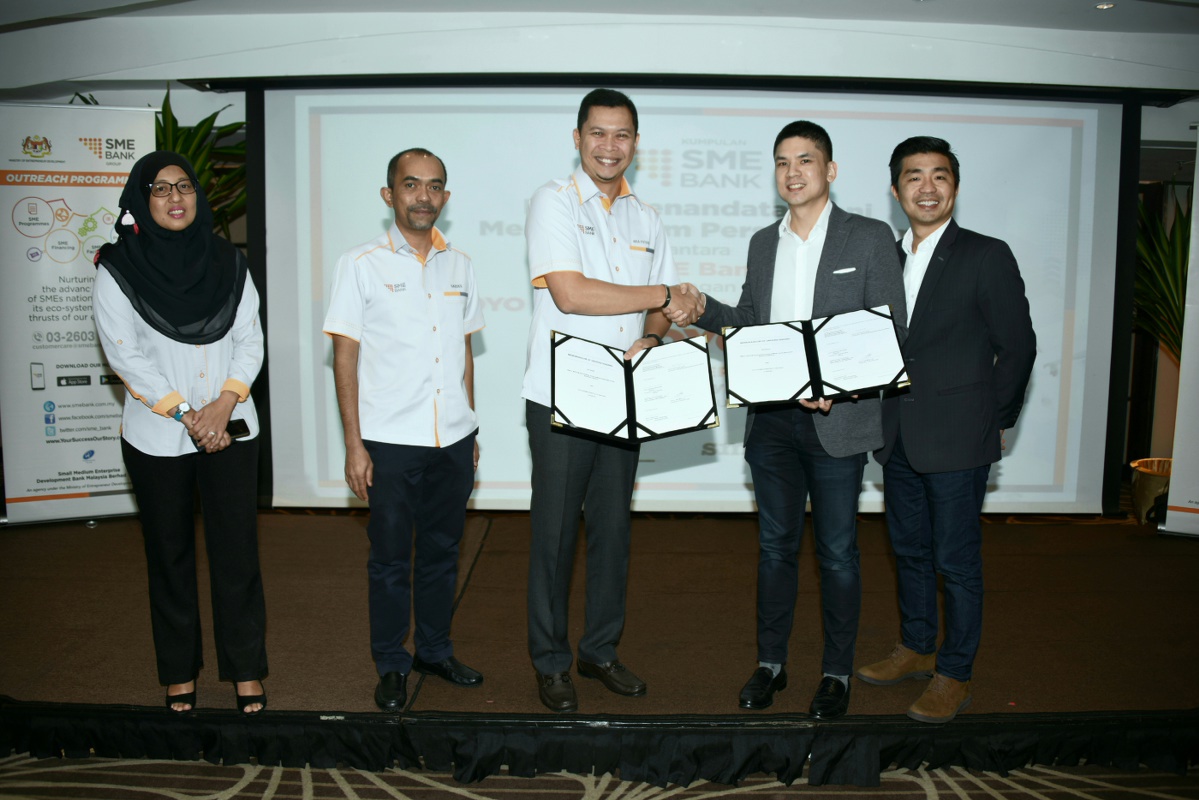 The Memorandum of Understanding between SME Bank and OYO was signed by Aria Putera Ismail, Group President / Chief Executive Officer, SME Bank (two from left), and Tan Ming Luk, Country Head OYO Malaysia (three from left) witnessed by Mohammad Hardee Ibrahim, Chief Banking Officer, SME Bank (far left) and Daniel Tay, Head of Business Development OYO Southeast Asia (far right).