SME Bank inked Branding Collaboration with Kedah Holdings & MOU with Prowheels Distributor
SME Bank inked Branding Collaboration with Kedah Holdings & MOU with Prowheels Distributor
KUALA LUMPUR : 1 July 2019
---
SME entrepreneurs in Kedah now able to benefit from SME Bank's financing through a signing ceremony of branding collaboration between SME Bank and Kedah Holdings Sdn. Bhd. (Kedah Holdings) and MoU with Prowheels Distributor (M) Sdn. Bhd. (Prowheels Distributor).
Aria Putera Ismail, Group President/Chief Executive Officer SME Bank said, "These initiatives are one of SME Bank's efforts to enhance the capacity and capabilities of SME entrepreneurs especially in Kedah. With the collaboration with Kedah Holdings, the financing facilities provided by the Bank will assist to finance the affordable housing projects around Pokok Sena, Kedah developed by Kedah Holdings. In addition, this Branding Collaboration will also see SME Bank to place its logo on the housing project billboard."
Meanwhile, through a Memorandum of Understanding with Prowheels Distributor, SME Bank will offer financing to vendors that have been selected and awarded a contract from Prowheels Distributor. Through this funding concept, Prowheels Distributor will screen vendors that meet the criteria and the selected vendors are then eligible to apply for financing with SME Bank.
Aria said, "The minimum financing offered is RM100,000 for the purchase of assets and working capital. To further enhance the entrepreneur's capacity building, SME Bank has agreed to provide them with free entrepreneurial training under this program.
This entrepreneurial training will be provided by SME Bank's subsidiary, Centre for Entrepreneur Development Sdn. Bhd. (CEDAR)."
Prowheels Distributor is the first Bumiputera company to be the distributor of ZETA brand tires and has 74 tire and vehicles service partners throughout Malaysia. Prowheels Distributor adopted the mentor-mentee concept to guide SMEs especially Bumiputera entrepreneurs who are interested in opening their own tire and vehicle service centre. With the financing injection from SME Bank, the ability of these SMEs especially in the services sector will be further strengthened.
SME Bank operates through its four branches in the northern peninsula namely the Northern Region Center, Alor Setar Enterprise Center, Seberang Jaya Enterprises Center and Bayan Baru Business Center. The Northern Region Center SME Bank has approved a RM226 million financing in 2018.
Also presence during the signing ceremony is YB. Encik Asmirul Anuar bin Aris, Kedah's State Chairman of the Youth & Sports, Tourism, Arts & Culture and Entrepreneur Development Committee.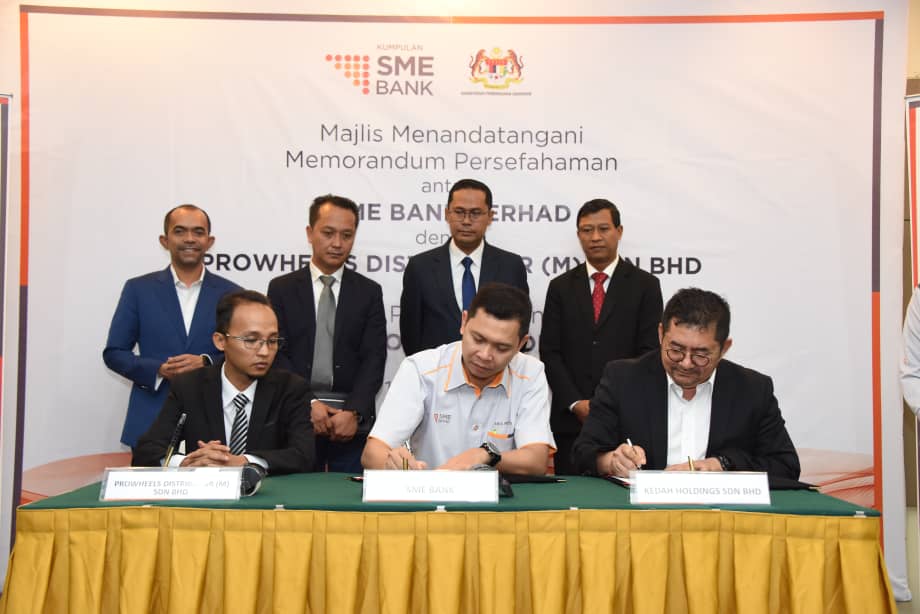 From left: Mohammad Majdi Mohd Ramlee, Director, Prowheels Distributor, Aria Putera Ismail, Group President/CEO SME Bank and Faris Najhan Hashim, CEO Kumpulan Bina Datulaman Berhad signing the memorandum of understanding.